Game 5 : Habs vs Sens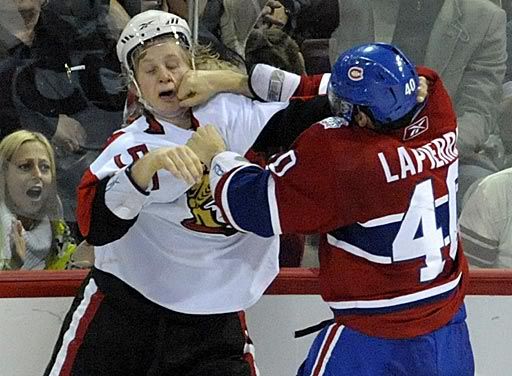 The Habs return to Montreal for the 2nd game in as many days. Coming off a strong defensive win against Buffalo, the Habs look for another win. The Sens are also coming into Montreal off a hard fought win against Carolina earlier in the week. The Habs will definitely be looking for more production from their top two lines, who were very quiet last night. Support from the blueline made the difference for the Habs. Picard scoring a fluky one on Miller, and Gorges banging in the game winner on the power play. ( First PP goal for the Habs this season)
Hottest player for the Habs at the moment is Carey Price. Looking good in all of his starts so far this season, Price has a .920 Sv% and two wins. Habs need to cut down their shots against, and start playing a full 60 minutes. Hopefully Martin will learn sitting on a 1 or 2 goal lead in the first is unfair to his goaltender and will only result in burning him out quicker than usual.
The Sens' Mike Fisher comes off his best game yet last week against the 'Canes. He scored 2 goals including the GWG and posted 8 shots on net. He showed the most heart on the Sens after a rocky start to the season.
The Sens will be without their unofficial #1 Goalie, Pascal Lecraire, who left early in the 1st during their last game. They are also with D-man Filip Kuba who's out with a broken leg.
Don't expect to see Markov on the ice tonight. I read from a few sources last week that he was hopeful for tonights game, but as things panned out it looks like he's still going to be sidelined. Should be back before November. Fingers crossed.
If the Habs can keep up the disciplined play, and work a bit more on the Power Play I expect a win tonight. The Sens looked shaky even in their win last week. They gave up two quick goals early in the third, and played most of the period on their heels. Should be a nail biter tonight, as both teams will battle hard to claim the 2 points in the division. I predict a 3-2 win for the Habs in overtime.
Game starts at 7:00pm and is being aired on RDS and CBC. Can't wait to see what Grapes has to say about the Habs this week!
Cheers!
-Kathryn Pateridis