Moving towards that pick!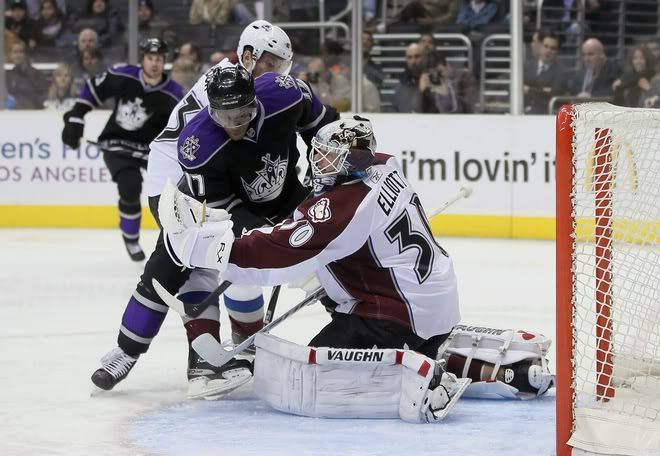 The Avs continue to slip on their California road trip
Greetings readers!
Well the Avs are currently on a California road trip, and I hope the team is getting some golf practice in, as I am sure they will have a lot of chances to play come May. The Avs have continued to slide, and besides there win at St. Louis, the Avs have lost 14 out of their last 16 games. It has been just plain dreadful to watch the team, even when they play decent. For instance, I thought their game against Anahiem was preet good overall, however they just couldn't catch any breaks. The biggest thing is not allowing a goal late in the third period. It seems Peter Budaj plays decently well throughout the whole game, even making some game saving saves at the right times, but when it comes to the last 10 minutes of the third, the guy can't make that save. When Craig Anderson was on his game, see last year, the Avs were able to find wins because Anderson would make that key save in the third and the Avs would use it to win the game. What that tells me however is that we rely on our goaltending way too much.
Our defense needs to get better so that we aren't relying completely on our goalies late in games. On the other side of the coin, we need a goalie who can come up with that save every so often. it seems right now neither Elliott or Budaj for that matter can. It is a big problem that must be fixed.
Injuries Catching Up
It was only a matter of time, and that time has been this slump. The Avs vast amount of injuries has finally come back to bite the Avs, and it has done it in the form of a snake bitten offense. The team just can't score like they used to, and besides David Jones (who has played amazing and is scoring a ton of goals in his first full season healthy) everyone on this team can't seem to find the net. We are making average goalies look like superstars. We allowed Curtis Mac to shutout the team, and he has switched teams twice in the last week or so. Edmonton's backup Dubnyk got a 5-1 win and looked tremendous. Even though the games are close, if the Avs could barry their chances their record would be completely different.
So it's pretty much the whole team that are losing these games: no key stops from goaltending, no big defensive plays, no goals being scored. The key is when one of these are needed and the other two are there, that one area fails and the team loses. The team needs a whole team preformance where every aspect of the team comes up with the plays they need to in order to find the wins.
However, the Avs are all but mathmatically eliminated, and I would much rather just see us tank then make a miraculous run that gets us to the playoffs and out in the first round. The team is rebuilding and the only way that will happen is if we get that draft pick (see Pittsburgh). Hopefully though the GM doesn't screw us up and draft even more small speedy defensemen this draft... PLEASE!